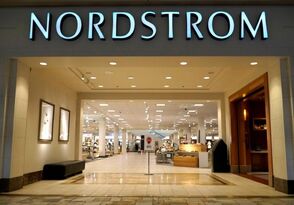 Nordstrom is an upscale chain of American department stores, with its flagship store in Seattle, Washington. It was founded in 1901 by J.H. Nordstrom and C.F. Wallin. Beginning as a shoe store, it sells a wide array of department store merchandise. This includes clothing, fragrances, hangbags, cosmetics, and jewelry. It competes with Macy's.
In 1887, Nordstrom emigrated to the United States. Nordstrom was born in Sweden. His birth name was Johan Nordstrom. In 1901, along with Wallin, they started a shoestore called Wallin & Nordstrom. A second store opened in 1923. Later, both Nordstrom and Wallin retired and gave the chain to Nordstrom's three sons. Soon, they renamed the store Nordstrom. They still only sold shoes in the late 60s. In 1969, Nordstrom purhased Best Apparel of Seattle and the company was renamed Nordstrom Best. In 1971, it became public. In 1975, the first Nordstrom Rack store opened. In 1983, the 'Best' part was removed and the company simply became Nordstrom. Nordstrom soon became a national chain. Now, Nordstrom competes mainly against Macy's and sister store Bloomingdale's, but also with other chains like Kohl's and JCPenney, which are not as upscale. Nordstrom stores feature a cafe or espresso bar in them. The entrees served vary from store to store, as well as the name of the cafe. Both the "Classic Cafe" and "Marketplace Cafe" are more casual and offer items such as sandwiches, soups, and salads. "Cafe Bistro" specializes in brick oven entrees and the "Nordstrom Grill" offers both food and alcoholic beverages. Their espresso bar was discontinued and then re-introduced as "eBar". Many shopping malls that have Nordstrom department stores in them, also have Nordstrom Rack. This is Nordstrom's clearance store line that sells discount apparel.
Employee Handbook
Edit
For years, employees have been given a gray card called the Nordstrom's Employee Handbook. It reads:
Welcome to Nordstrom
We're glad to have you with our Company. Our number one goal is to provide outstanding customer service. Set both your personal and professional goals high. We have great confidence in your ability to achieve them.
Nordstrom Rules: Rule #1: Use best judgment in all situations. There will be no additional rules.
Please feel free to ask your department manager, store manager, or division general manager any question at any time.
Mall Locations
Edit
See also
Edit
External links
Edit