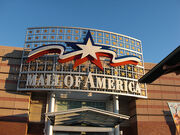 Mall of America
is a 2.5 million sq ft super-regional shopping mall located in Bloomington, Minnesota.
Opened in 1992, the Mall of America is the second-largest shopping mall in the United States, and has the largest leasable retail space. Over 520 stores fill four levels. At the four corners of the mall's rectangular shape are 4 anchor stores, and in the center is Nickelodeon Universe (an indoor amusement park). Two nearly identical seven story parking ramps on east and west sides provide 12,550 parking spaces. Parking lots on the north and south of the building, along with nearby overflow parking, bring the total number of spaces up to approximately 20,000.
On May 18, 2008, the Minnesota State Legislature passed a bill granting the city of Bloomington the right to raise property and sales taxes to pay for a "Phase II" expansion of the Mall of America that is expected to double the mall's size. The expansion will connect the MoA with an IKEA store to the north property, as well as add on to the existing mall. MoA's "Phase II" may include a Bass Pro Shops, Great Wolf Resorts, Kimpton Hotel, an NHL-sized arean for hockey and skating, and two upscale department stores.
Junior Anchors
Edit
Barnes & Noble Booksellers
Best Buy
DSW Shoe Warehouse
Marshall's
Former Anchors
Edit
Bloomingdale's (210,000 sq ft) Now Forever 21
Major Attractions
Edit
A.C.E.S. Flight Simulation
LEGO Imagination Center
Moose Mountain Adventure Golf
Nickelodeon Universe (292,000 sq ft)
Underwater Adventures Aquarium (43,886 sq ft)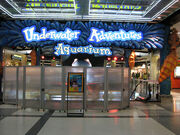 Restaurants
Edit
American Girl Bistro
Bubba Gump Shrimp Co.
Benihana
Burger Burger
Buffalo Wild Wings
Cantina #1
Cantina Laredo
Chipotle
Crave
Cowboy Jack's
Hard Rock Cafe
Hooters
Johnny Rockets
Noodles & Company
R Burger Bar / Rick Bronson's House of Comedy
Rainforest Cafe
Tiger Sushi
Tony Roma's
Twin City Grill
External Links
Edit