Indian Springs Mall (also known as Indian Springs Marketplace) is a 700,000 sq ft shopping mall in Kansas City, Kansas at the corner of State Road (U.S. 40) and I-635.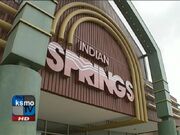 The 2-level mall opened in 1971 with three anchor stores: Macy's (later replaced by Dillard's), Montgomery Ward, and JCPenney. Dillard's was on the south end and Montgomery Ward was on the north end, and the two were connected by a corridor that met in the middle at the JCPenney anchor. Indian Springs Mall began to fail when both Dillard's and JCPenney closed in 1997, and the mall suffered its final anchor loss when Montgomery Wards went bankrupt and closed all of their stores in 2001. Without any anchors, Indian Springs Mall lost the majority of its chain stores, in favor of more locally-owned shops. Additionally, Indian Springs Mall converted much of its retail space for other uses, which includes turning the Dillard's space into a customer service center for the U.S. Postal Service and retenating the former JCPenney to the Kansas City Kansas School District. The mall's failure was most likely caused by the surrounding area's rising crime rate and the competition from Oak Park Mall, a nearby upscale super regional mall.
Ideas for redevelopment for the blighted area have been brought up numerous times since 2007, but the mall has continued to remain standing despite suggestions to level the property and replace Indian Springs Mall with an outdoor shopping district.
Anchor Stores
Edit
Montgomery Ward - closed 2001, vacant
JCPenney - closed 1997, now offices for Kansas City Kansas School District
Dillard's - closed 1997, now a U.S. Postal Service customer service center